Hola. I will start this blog in Espanol because it will take place in Barcelona. I feel like my blog has mainly been about me and my health, so I want to this post to be fun and light. Why not with my favourite way? Spilling some tea with the ladies from the ATL.
This is a delayed recap from last Sunday's episode. When we last left off Cynthia Bailey was questioning her budding relationship with the dreamy Will. Anyhoo, Cynthia decided to get away from it all. The ghost of ex husband Peter that won't stop making an appearance at every single event Cynthia attends, as well as her looming doubt whether new beau Will has a girlfriend on the Q-T. Peter is alive and well but he is ever-present in Cynthia's world and it seems like they are both having a hard time letting go of the past when their eyes lock across a crowded room.
So on to the girl's trip to sunny Barcelona. Cynthia invited all the ladies, however, Kim had to decline. Everyone discussed this on the shuttle on the way to the villa. They all agreed that Kim cannot be too far from Croy, hence the reason she wanted to come along but insisted that Croy come on the trip too. The others could not understand why Kim is so attached at the hip to her man and cannot even attend a girl's trip without Croy. NeNe was especially hard on Kimmy. She felt that Kim was using her heart condition as a lame excuse not to attend the trip. Of course NeNe could not stop there. She went to say the Kim lies and fakes many ailments for attention, including cancer, a stroke and now this heart business. Sheree listened intently but said not a word, and offered no opinion over the matter like the other women, who laughed and cackled over NeNe's lambasting of Kim.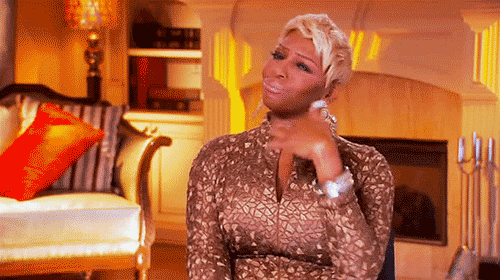 I can understand Kim's hesitation to not want to go miles and miles away from home after just surviving a heart attack without her husband. It is risky at best and Croy would be able to assist her more than the ladies if she took an ill turn.  Also, that is how the Biermans  live their lives. I know a few couples that do not separate from each other under any circumstances. My mom likes to refer to these couples as "ass and chamber" (please excuse the Belizean metaphor) but it makes a whole lotta sense. I like a little time away from Andy now and then, and he likes his time away from me at times, so I could never have a marriage where we are "ass and chamber" but I don't judge. I try to live and let live. Good for Kim if she is happy with their arrangement, albeit a little stifling.
After gossiping about Kim and Croy, the ladies finally arrive at their accommodations. A lovely home in the heart of the city centre. It is not dripping with opulence but is nice and clean in its surroundings. The ladies were not impressed with Cynthia's choice in accommodations and had a lot of negative things to beef about. This is where I have a problem. These women are so spoiled and pampered that if they are not surrounded by luxury 24-7 they whine and complain. Just be grateful for Pete's sake! You're in a gorgeous, historic city. You're alive and able-bodied and can travel. So what if the toilet isn't gold-plated or the bed draped in Egyptian cotton sheets. Boy, that bugs me.  They just have no gratitude. They all argued over who gets what room, and NeNe proposed that her and Cynthia should have the best rooms because they are seniors or elders or mature. Candy was not having it! She didn't care if NeNe was grandma Moses, she was not giving up the best room, teeth flared and all. "I am not mooooving," she hissed adamantly. She was so adamant that NeNe had to back down with her tail between her legs.
After the rooms were finally sorted, and NeNe had to retire her senior self to a less than appealing room, the ladies met on the beautiful patio for dinner in their PJ's and comfy cozies and a few bottles of wine. Before heading to dinner, Sheree made sure to call Kim and spill the tea, and spilling she did. Her pants must have been drenched in tea. She told Kim all that NeNe had to say about her and Croy as well as her "so called" illnesses. Now come on Sheree. Again, you're in this gorgeous Spanish city. The weather, the history, the mosaics, the weather (oops I already said that.) Why make time for idle gossip? Just let it go. We well know that ain't Sheree's style. She will collect those bones until there is not a scrap.
As the ladies sipped Spanish wine, chatted and laughed under the stars on a gorgeous night, one by one, the ladies started to receive text messages from Kim. A litany of remarks about NeNe and the roaches in her house, and how she parks in handicapped parking to get a closer spot in the parking lot. On and on went the texts, making out NeNe to be the nastiest most despicable person who walks the earth. Of course NeNe had to retaliate with her own defaming remarks about Kim. And Sheree?
Sheree sat back and watched all the she destruction she had once again created and was very pleased with herself. She sipped her wine and dried up her tea.