If you have been following my blog I am sure you know Andy Cohen's Housewives franchise is my guilty pleasure. I think the O.C ladies have got to be my favourite hands down, but I would also like to give a Vicki Gunvalson "woohoo" to the ladies of Atlanta, Potomac and Miami  (the latter being cancelled unfortunately. I really miss that crazy mama Elsa.) Miss you Mama Elsa and I hope you're keeping well.
How could I not recap the gals of my own fair city, Toronto? I won't do a seasonal recap because that would be too long, so I will instead do a seasonal review and try to make it brief.
When my cousin told me that the franchise was coming to Toronto, I couldn't believe it.  Sure enough, six beautiful ladies found themselves as the feature housewives for the reality show which made its debut in April 2017. There was Grego Minot, Jana Young, Roxy Earl, Joan Walker, Kara Alloway and Ann Kaplan-Mulholland. An interesting mix of Toronto's elite including corporate wives, philanthropists entrepreneurs, a born again Christian who professes "the higher the heel the closer to God." Most all moms (except Roxy Earl) who enjoy the finer things in life.
Pros about the show?  I really like these ladies. They all seem like genuinely good people who enjoy each other's company, well, with the exception of one, Kara Alloway. I think Kara got the bad end of the stick. It wasn't that she was a bad person or a malicious gossip, she is just different from the other ladies and never did quite fit in their circle. Kara is to me self-centered and just loves talking about herself and all her endeavours, but she seems like that type of person who only likes to talk about herself, and gets bored when the conversation becomes two-sided. Heaven forbid you cut her off when she's talking about her perfect marriage to attorney Graham Alloway, travels or Ambi Gala. She isn't a very good listener.
Unfortunately for Kara she was almost immediately an out-cast from this group (despite peace maker Ann Mulholland's atttempts to include her and Joan's earlier in the show) the other ladies just were not feeling her company. I think for one, she is not a party animal. Grego, Jana, Roxy and Joan work hard, but love to play hard. They enjoy life to the fullest, and like to have a good time and let their hair down with wine, dancing and skinny dipping off the shores of Lake Ontario during their vacation at Joan's summer home in Muskoka.  Ann is not so much a party person, and limits her alcohol intake and loves to eat broccoli (wear broccoli) and other greens. The difference is she is not judgemental of other people's choices. Kara is. As a Christian she should try living by "let he who casts the first stone" verse.
When Kara had an elegant, Italian-themed dinner at her Muskoka summer home, she invited all the other ladies. She had fine wines from Italy and special cheese flown in from Italy. I think this was Kara's attempt to really impress her new-found friends. That evening Kara wanted to talk about what else? Herself. She tried boasting about the cheese, her travels through Italy. She planned the evening very methodically. Her guests were to listen to her, have one glass of wine with dinner, listen to her some more, eat dinner and dessert, watch her fireworks display, listen to her yammer some more and then go home clean, sober and well fed. Boooooring!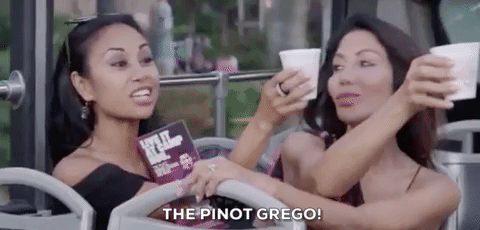 The ladies had other plans that threw a spoke in Kara's playbook of "how guests should behave at my cottage." They talked over her, had roars of laughter, drank a lot (to hell with one glass with dinner) and suggested going skinny dipping off her dock. Kara was mortified! How dare they drink out the wine and then want to take off their clothes. Newsflash Kara. A lot of people get a little crazy in Muskoka. It's cottage country. You're surrounded by nature, the lake and yes, people tend to drink and let loose.  I have cottaged in Muskoka. Mind you not on the same scale. These ladies have a lake house, boat house and a guest cottage. My Muskoka entails renting a wooden log house with only cold running water and deciding among family members who sleeps in which bunk bed and who will sleep in the Mr. T, I pity the fool sleeping bag. What we do share in common, we might open a bottle of wine at 2 am.
Kara just never found her groove with anyone else (maybe a little with Ann.) Kara was accused of gossiping about the ladies' "atrocious" behaviour at her elegant, summer dinner. I think she truly felt disrespected (although I disagree with her) and she confided in her lash lady that the ladies got blind drunk and removed their clothing. She really honed in on poor Joan, who unfortunately in a tipsy manner removed her undergarments in hopes of skinny dipping and left them on Kara's property. To make a long story short, Kara kiboshed the skinny-dipping, was none too pleased and sent the ladies packing. Poor Joan, I think she just felt happy and comfortable and as if she was among friends. Roxy Earl has the same lash lady as Kara and the lash lady disclosed all of Kara's venting to her. In turn, Roxy told the other ladies what Kara had said about them. I think Roxy should have just left it, but I think she was already upset with Kara for forgetting her birthday and yelling at her in the dog park for another incident that I won't get into details about.
Cons about the show? They are too well-mannered. I cannot see these ladies throwing shade, hair pulling, spreading gossip about the others finances, marriages or personal lives in general and physical appearance.  I just can't see them bullying anyone or being downright mean and nasty. They're all class acts! Jana, Joan and Grego were very close friends before the show aired, and I don't think they would do anything to jeopardize their loyalty to each other and I can see these three truly have a sisterhood. Roxy is a little gregarious and I can see her maybe having conflict with Jana, who at times seemed irritated by the loud Roxy's presence, but that's it. There was no throw down, no drama. Nothing in comparison to the other Housewives. And what keeps viewers coming back? Ladies behaving badly. Oh and before I sign off, I loved that they casted a plus-size lady. Roxy is very curvy and has started a campaign #IROCKmysize. I am used to seeing housewives no larger than a size two, so this is a refreshing and positive change. Good for you Andy Cohen!
The always gorgeous Roxy Earl:
I hope to see a second season, but for now the future of The Six from #the6 seems uncertain.