This post is brought to you by my favourite O.C ladies, Tamra, Vicki, Shannon, Meghan, Kelly and let's not forget fancy pants, Heather.
I have always professed that The Housewives franchise is more than just trashy reality television, but Andy Cohen offers up some great life lessons. You just have to read between the gossip, cattiness, juvenile behaviour and drunken debauchery. While we're at it let's start with drunken debauchery. Why not?
The ladies headed to the emerald island. Yes, Ireland bound.  Meghan, who is over the moon that she is pregnant and all the months of agonizing hormones and needles from IVF was well worth it. Baby Edmonds is on the way! Anyway, she is suddenly enthralled with discovering more about her Irish roots to pass down some genealogy to her child.  So much so, that she organizes a girl's trip to the land of Bailey's, rolling green hills and historic castles. I am guessing that Bravo fitted the bill to their all expense paid trip to the U.K and not Jimmy Edmonds. But I digress….
And so it began. Meghan finding her more about her ancestral land by tapping random people on the shoulder in a quaint Irish town to ask if they might be her relative. To me, some of the people looked a little scared. Also, a whole lotta drama and drinking. There was so much toxicity and not just in alcohol, but also in nasty behaviour. Let us begin this lesson on when to give up booze, brought to you by the O.C ladies I love to love.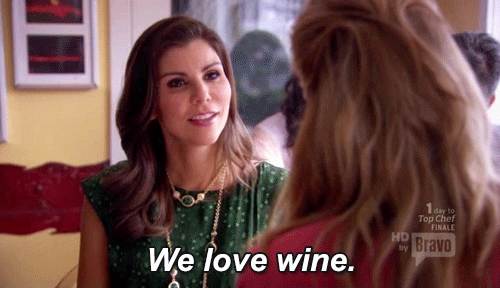 If drinking alters your personality for the worse in any way, just pass on the libations. Some people cannot hold their drink. I am referring to Kelly Dodd. She just gets belligerent, confrontational and just plain mean after she's had a few. After a night of pub-hopping through Dublin a huge fight erupted (not just verbally, but physically) after Kelly hit below the belt. She blurted out an insensitive comment about Tamra's strained relationship with her eldest daughter. As I stated, this issue is very raw and tender for Tamra and Kelly using it against her was a no-no. It all started with Kelly's annoying habit of pointing to a "spot" on the ladies' shirt and saying, "what's that?" When they looked down, Kelly would give them an irritating nose flick. Funny the first time, not so funny the tenth time. How did this snowball to fits of crying, punching and screaming? Yup, too much boozing. I think Kelly is a sweet, gregarious person, but she turns into the Hulk with botox and fillers after drinking alcohol.  Remember when under the influence of alcohol Kelly, words hurt, and once you say something nasty, rude or uncalled for, you can never take it back. Even when you give a tearful, sober day after apology.
        If you flash your breasts, pass on the libations.  Victoria I am talking to you, girlfriend! Your actions on this trip were nothing short of shameful and embarrassing. You made me reminiscent of when I used to live in Cancun and went out clubbing during Spring Break. Drunk girls would flash their boobs and neither regions while dancing on bars and tables as men cheered them on to strip more. At least to the spring breakers credit they were no more than twenty. You Vicki are over fifty. It is time to cover the boobs, and pass on the booze. Yes, we all like to have a good time, but this is just too much. Showing your nipples to your friends and the poor farmhands after milking cows in the beautiful Irish countryside made me cringe. Dry humping the guys in the bar the previous night made me cringe. All your unnecessary screaming and carrying on made me question, has this woman never left home before? She is so, so asinine on vacation.
    Being overly dramatic and crying means it's time to just throw back water.  Shannon you are the town crier when drunk. Your eyes get that crazy, wide-eyed look like you just got abducted by the murderer in a horror film. Actually with that look you would be the perfect victim in a horror film. You remind me of a friend I grew up with in elementary, middle and high school who I have long since lost touch with when she moved abroad. "Roanne" would break down in tears after having a few at a party in senior high. It was worse for me because at the time I didn't drink. She would sob and and sob. Roanne would bring up things from when we were seven that I couldn't even remember. When I lost her Malibu barbie, when I told Peter Alexovsky she had a crush on him. How it ruined her whole year in grade four. She would even apologize for things she did to me from years past. Like the time she threw my new scarf in a tree or said my dog has bad breath. Her eyes would get crazy and wild like Shannon's. Her face splotched with red marks. Shannon it is time to put down the vodka and stop all the unnecessary dramatics.
  And finally, when you drink so much you think that your liver needs a cleanse from Milk Thistle, it is time to put the wine glass down! Right Kelly?
See, life lessons. I can't wait to tune in next week and find out what else I can learn. I never knew that Milk Thistle can cleanse the liver. I hope you enjoyed this post of thought-provoking exchange…housewives style.